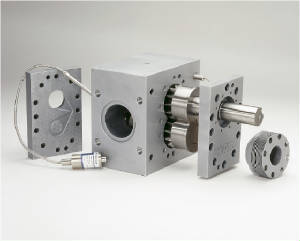 Gear pump assisted extrusion has gained wide acceptance over the last 30 years as a proven method for increasing the output of a line, while improving product quality and increasing the use of reclaim materials. Many products can only be extruded properly through the use of a gear pump, however improvements can result on most any line. The gear pump takes away the metering and pressure building job from the extruder, leaving only melting and mixing. The gear pump is so efficient that a constant output is guaranteed, and with the extruder operating at a greatly reduced head pressure, output can increase and melt temperature can decrease in most cases. However, installing a gear pump to a line adds another rotating piece of equipment, drive system and control, and totally changes operation of the line, since the pump speed determines the output, with the extruder slaved through a pressure loop. Proper sizing, system design, operator training, maintenance and spare parts are critical to assure long term reliability of the system.

Key Benefits
Improved quality and dimensional stability of the end product, with possible production increase.
Simpler and faster line startup and product changeovers.
Raw material savings and lower production cost for fast paybacks in under one year.

Featured Used Equipment
MAAG Melt Pump System - 3000 PPH+ capacity for HDPE. Extrex SP Model 110-3. Includes support cart and dis-continuous screen changer. Missing drive and motor.
Please respond below for a detailed quote, or give us your specific needs, and we will find the right gear pump system for you. All systems subject to prior sale.

Now we are able to source spare parts and repair services for most major brands of extrusion gear pumps. Just provide the details on your machine, (model number, serial number, manufacturer, etc.) and EAS will find the right parts and repair services at the best price and delivery available.
Equipment Suppliers
| | | |
| --- | --- | --- |
| | | |
| | Pump systems, static mixers, screen changers | |
| | Pump systems, static mixers, screen changers | |
| | Pump systems, static mixers, screen changers | |
| | | |
| | | |
Note: Extrusion Auxiliary Services does not represent or have a formal association with any equipment suppliers. Above list is for reference purposes only.
click here to download "Gear Pump Systems" .pdf file
click here to download technical papers regarding "Gear Pumps and Gravimetric Control"

Information Request